At the IBVTA we are committed to promoting a responsible vaping sector that is a partner to government and individuals on the smoking cessation journey. We strongly support the government's smokefree strategy, which aims for a smokefree UK by 2030 (1) (Scotland by 2034). This strategy is key to improving the health of consumers and the health of the nation. In fact, research indicates that if just half of England's adult smokers switched to vapes it would save the NHS more than £500 million per year (2).
Recent months have seen a flurry of negative headlines about vaping and, according to research from Action on Smoking and Health, 40% of people now believe vaping is as or more harmful than smoking, an increase in 60% in just 3 years (3). This is inaccurate, and the government's own data suggests that vaping is 95% safer than smoking.
The reality shows that vaping is a key step on the journey towards quitting smoking. A recent IBVTA member commissioned survey of 6,000 smokers and ex-smokers across the country (4) found that 37% of ex-smokers and 46% of regular smokers have tried a vaping device to help them quit smoking. These findings chime with the ambition of the government's 'Swap to Stop' scheme (5), which will provide vapes to one million smokers to help them quit. The facts highlight the role that vaping can play with the number of 18-year-olds who regularly smoke falling from 24.5% in 2021 to 19.5% in 2022, a 20% decrease in one year alone. A 12% drop in smoking was also recorded amongst 25-year-olds over the same period (6).
To support the UK's smoke free journey, and the role of our industry in supporting it, we've launched a six-month national campaign aimed at dispelling some of the myths and confusion around vaping.
For further information about our campaign, and how our industry is working to tackle some of the recent concerns around vaping, please download our briefing document here, or click on the following headlines.
The IBVTA strongly supports the Government's ambition to make the UK smokefree by 2030 (Scotland by 2034). In 2022, the Government commissioned a review of their ambition to be Smokefree by 2030. The Khan Review (7) found that "without further action, England will miss the smokefree 2030 target by at least 7 years" including the following key recommendation: "The government must embrace the promotion of vaping as an effective tool to help people to quit smoking tobacco."
In April 2023 (8), Minister for Public Health, Neil O'Brien MP set out the government's plans to "exploit the potential of vaping as a powerful tool to stop smoking".
"Vaping is already estimated to contribute to about 50,000 to 70,000 additional smoking quits per year in England. However, vapes are not yet being used widely enough to reach their full potential as smoking quit aids, showing the potential power of it as a tool. A 'swap to stop' partnership is a scheme where smokers are provided with a vape starter kit alongside behavioural support to help them completely stop smoking."
In his speech, the Minister also stated: "The latest international research shows that smokers who use a vape every day are 3 times more likely to quit smoking, interestingly, even if they didn't intend to quit smoking."
This is very clear and unequivocal support for vaping, but in recent months have seen a flurry of negative headlines about vaping. This is inaccurate and the Government's own data suggests that vaping is 95% safer than smoking. Not only this, vaping is a key step on the journey towards quitting smoking. We welcome the ambition of the Government's 'Swap to Stop' scheme5, which will provide vapes to one million smokers to help them quit.
The facts highlight the role that vaping can play with the number of 18-year-olds who regularly smoked falling from 24.5% in 2021 to 19.5% in 2022, a 20% decrease in one year alone, and 12% decrease was also observed in 25-year-olds (6). Whilst vaping appears to be significantly influencing younger adult smokers behaviour, it is also key to providing long-term adult smokers with the products they need to quit smoking for good. To put this in a broader context, the proportion of current smokers in the UK in 2022 was 12.9%, or 6.4 million people, compared with 20.2% in 2011 (9). Considerable progress has been made to move the UK towards a smokefree status and vaping has played a significant role. Therefore it is vital that the facts on vaping are clear and evidence-based in order that the 6.4 million current smokers can make informed decisions concerning vaping.
The flow of illicit and counterfeit products into the UK poses a health and a law enforcement challenge.
There is a large and highly organised black market, alongside small-time opportunists. Intelligence led operations against the former are likely to result in recovery of lost tax revenue income in addition to cutting off supply to illicit trade. The IBVTA conservatively estimates these lost revenues to be greater than £200M in VAT and £70M in excise duty.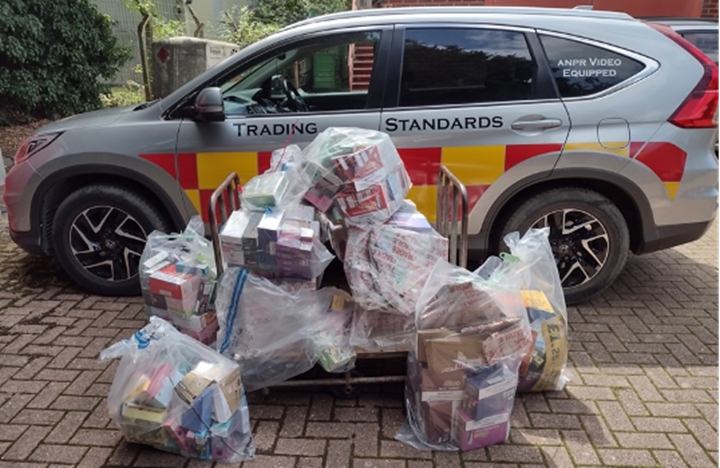 Example Seizure, source: Oxfordshire County Council
The IBVTA and our members are working with Trading Standards and other relevant authorities to stop this flow, and ensure products on UK shelves are safe and legitimate. We support the establishment of the illicit vapes enforcement squad and we will work with our members to support this initiative where we can with, for example, the provision of intelligence and insights.
Opportunity to review the regulations
The IBVTA believe that because regulations restrict single use "disposable" products to a capacity of 2ml, and the black market is more typically in products of 6ml and over, relaxing the e-liquid fill requirement to 6ml, or even higher, will mean legal products compete with illicit for consumer value, driving the adult trade (which is the majority of purchases) back to retailers that carry out age verification. This will also reduce the environmental impact of single use vapes.
The Government has clearly stated its commitment and support for vaping products as a fundamental solution to further drive down smoking rates as part of its Smokefree 2030 Ambition (2034 in Scotland), whilst ensuring that they remain the preserve of adult smokers. We share this commitment and look forward to working to deliver on these shared objectives.
Vaping products are typically sold across large supermarkets, pharmacists, vaping stores as well as smaller symbol and independent retail stores. A vast majority of these stores are experienced in retailing age-restricted products, with the necessary age-checks in place.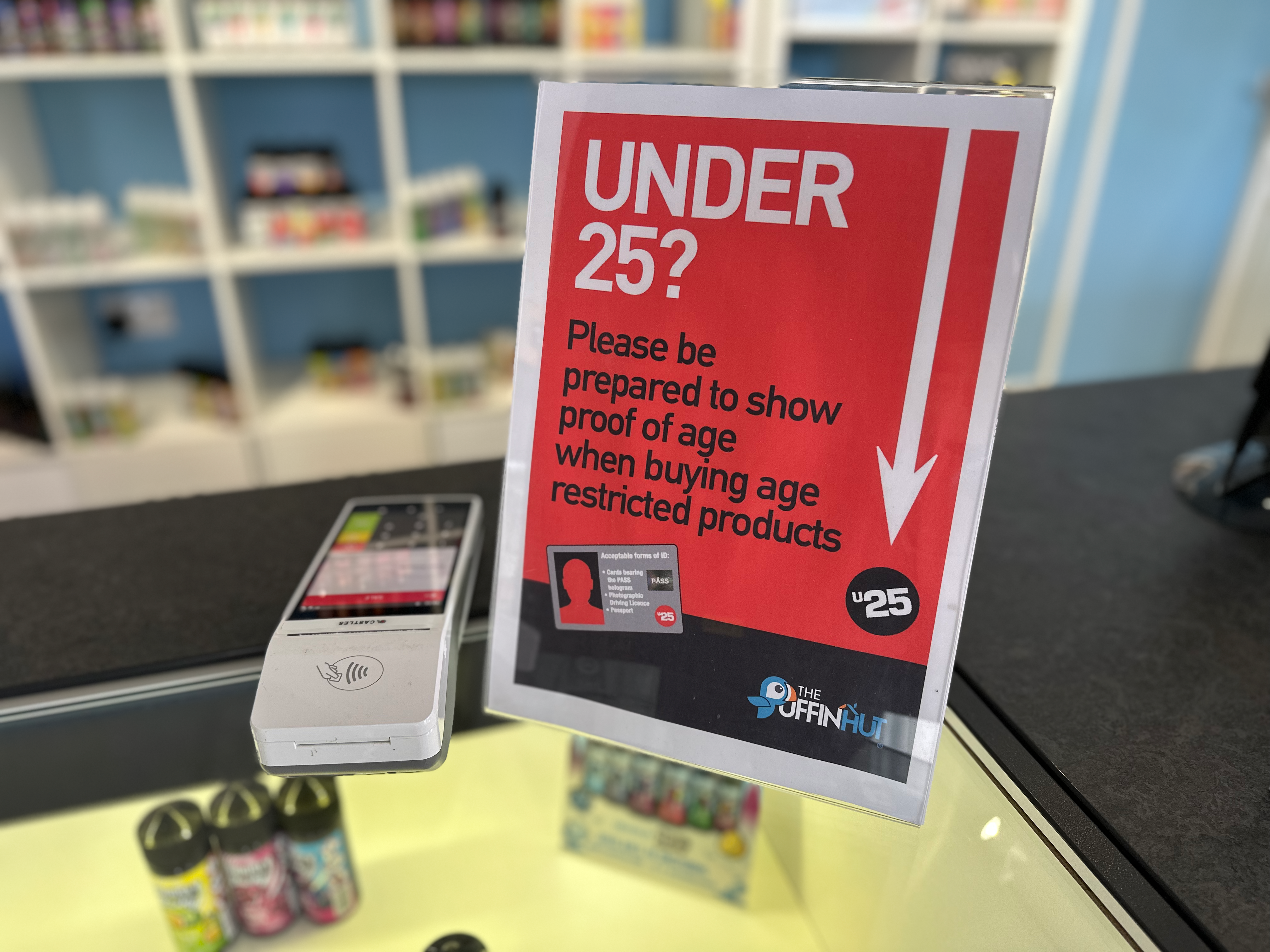 Under the current UK system, businesses that do not typically sell age-restricted products are able to purchase vaping products from third parties in the supply chain and sell them to the public. This has led to a significant rise in vaping products being made available in non-traditional outlets. We believe this should be addressed and stand ready to support the Government on this.
Based on evidence provided by public health groups such as ASH, the primary source for young people appears to be shops, either purchased directly or on their behalf. The ASH Smokefree GB Youth Survey, 2023 found that among 11-17 year olds who have ever tried vapes, 73% reported their first source of vapes as being given them by someone else, versus 26.3% having purchased vapes themselves. Of those in the same age group who currently vape, just under half (46%) continue to access products by being given them by others.
"Undisciplined" convenience stores, corner shops, mobile phone cover shops, etc. are likely the biggest suppliers to children. Corner shops seem to be the most commonly cited, which is reiterated by the finding in ASH data that 26% of the 11-17 year olds who currently use vapes say they purchase from a newsagent, a corner shop or an off licence.
The IBVTA supports measures that ensure retailers age verify before making a sale and also ensure where possible that products are also not being purchased on behalf of under 18s, so-called proxy purchasing. Successful campaigns, such as Challenge 25 have been implemented for other age restricted items and we'd support a similar initiative in this area.
At present, fines for those retailers caught selling to under 18s are low and often not enforced. We're calling for tougher sanction against retailers that sell to under 18s, including raising the fines to £10,000.
The IBVTA actively encourage our members to put sustainability front and centre and we are committed to working together with the industry towards this goal. We regularly remind our members of their legal obligations and in order to support compliance and action we have identified and promote reputable recycling businesses who are licensed Approved Authorised Treatment Facilities (AATF) with the appropriate vape product schemes in place.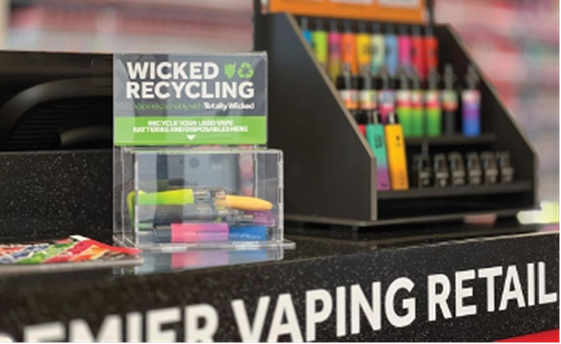 Vape stores across the UK are increasingly offering take-back schemes for used vapes.
Customers can find their nearest recycling point on the Recycle Your Electricals postcode locator.
Single-use vapes are currently subject to the same waste electrical (WEEE) and waste battery import tariffs as rechargeable vapes. This means that importers are obliged to join a Producer Compliance Scheme (PCS), and to report the annual imported weight of electrical and electronic equipment, batteries and packaging. They are then required to pay tariffs based on the weight of each type of material imported.
Opportunity to review the regulations

The IBVTA has highlighted two issues to government which currently means single use vapes aren't recycled to the extent they could be. The first is that among "legitimate" importers compliance with WEEE and waste battery regulations is low. The second is that illegally imported illicit vapes form a large part of the market, and it is inconceivable that those illegal importers are paying for membership of a PCS.
The IBVTA believes that positive action is required to correct these issues. These should include effective controls at borders to avoid the importation of illicit vape products, and a careful examination of the way in which vape products are categorised for waste material tariffs to ensure their disposal costs are fairly collected and allocated to waste service providers.
Additionally, the disposal costs of any illicit products that are seized by Trading Standards should be wholly borne by the retailer, distributor and/or importer depending on culpability. Such retrieval should become a statutory power for all Local Authorities carrying out Trading Standards operations without the need for further legal action.
If you have any concerns about sales of illegal vapes, or sales of vapes to children, report them.
In England & Wales, you can report to Trading Standards by calling Citizens Advice on 0808 223 1133 or visiting the Citizens Advice website.
In Scotland, you can report to Consumer Advice Scotland by calling 0808 164 6000 or visiting their website.
In Northern Ireland, you can report to Consumerline by calling 0300 123 6262 or visiting their website.
References:
https://www.brunel.ac.uk/news-and-events/news/articles/NHS-would-save-more-than-500m-a-year-if-half-of-England's-adult-smokers-vaped-instead
Original research was commissioned by an IBVTA member and undertaken by Opinium via a survey of 6,000 UK adults (Fieldwork conducted in July 2023).
Rapid growth in disposable e‐cigarette vaping among young adults in Great Britain from 2021 to 2022: a repeat cross‐sectional survey – Tattan‐Birch – 2023 – Addiction – Wiley Online Library https://pubmed.ncbi.nlm.nih.gov/36065820/
Khan Review: making smoking obsolete
https://www.gov.uk/government/speeches/minister-neil-obrien-speech-on-achieving-smokefree-2030-cutting-smoking-and-stopping-kids-vaping