IBVTA launches #VapingSavesLives campaign
The IBVTA is the only voice uniting the UK's independent vape industry. Vaping has suffered enormously from news about things happening in the USA over the second half of 2019. We all know that this news has absolutely nothing to do with us, our products, or anything that we do.
Unfortunately the general public often does not know this, as media reporting about what has happened in the USA seldom makes it very clear why we are not seeing similar issues in the UK.
Everyone in the UK's independent vape sector has felt the impact of CDC, FDA and US State market manipulation. More importantly, it is indicative both of fewer people moving from smoking to vaping, and we think it beyond reasonable doubt that there has been a transition from vaping back to smoking for many.
That is why we have prepared an information leaflet with the title "Vaping Saves Lives". It gives a brief, but truthful and fully referenced overview of the facts behind the 4 most common misperceptions about vaping. It also explains what happened in the USA last year, and why it is not happening in the UK.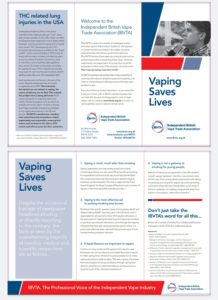 This leaflet is being distributed to vape shops, and is accompanied by an online campaign with the hashtag #VapingSavesLives, as well as a dedicated web page where we have made the leaflet free for anyone to download.
We urge everyone with an interest in vaping and public health to share this within their networks and on social media, and help shift the dial back in the right direction in a country that is without a doubt the world leader in tobacco harm reduction through vaping.